All schools and offices will be closed for Spring Break - March 22 - 26. Enjoy your break. #teamtasd #potentialrealized

The North Heights Junior High staff and students are ten days away from moving into the new Arkansas Middle School. The new school will house sixth, seventh, and eighth grade students. However, only the seventh and eighth graders will move in this semester; sixth graders will start the 2021-2022 school year on the new campus. Principal Theresa Cowling said, "There is definitely a buzz of excitement in the air as our team of teachers and students prepare to transition to Arkansas Middle School." Students and staff will move into the new school on March 8. "I have enjoyed being part of this historic moment; it is not every day that you have an opportunity to move into a new facility like our new middle school." The $26 million building project began in 2017 with the restructuring of bonds. In addition to money from the bonds, the district received $6 million from the Arkansas Academic Facilities Partnership Program. "This is an exciting time for our district and the community," commented Superintendent Dr. Kesler. Arkansas Middle School is 125,000 square feet and sits on 31 acres. The new campus will house 1,000 students and is equipped with state-of-the-art science and computer labs, two band halls, 2 gymnasiums, and much more. "Trice Elementary was built in 1983, and it was the newest school in the Texarkana Arkansas School District," Kesler stated. "We are pleased that the district was able to build the new middle school without an increase to taxpayers." A ribbon cutting ceremony will be announced at a later date. However, we invite you to countdown with us by following the Texarkana Arkansas School District on Facebook, Twitter, and Instagram.

All Texarkana Arkansas School District campuses and offices will resume regular schedules on Monday, February 22. #teamtasd #potentialrealized #saferazorbacks

Freezing temperatures and additional snowfall will continue across our region. Road conditions are unsafe for travel as overnight and early morning temperatures continue to remain below freezing. Therefore, all Texarkana Arkansas School District campuses and offices will remain closed with plans to resume on Thursday, February 18. Tuesday and Wednesday will be virtual learning days for students. Please stay safe.

Attention 8th grade parents!!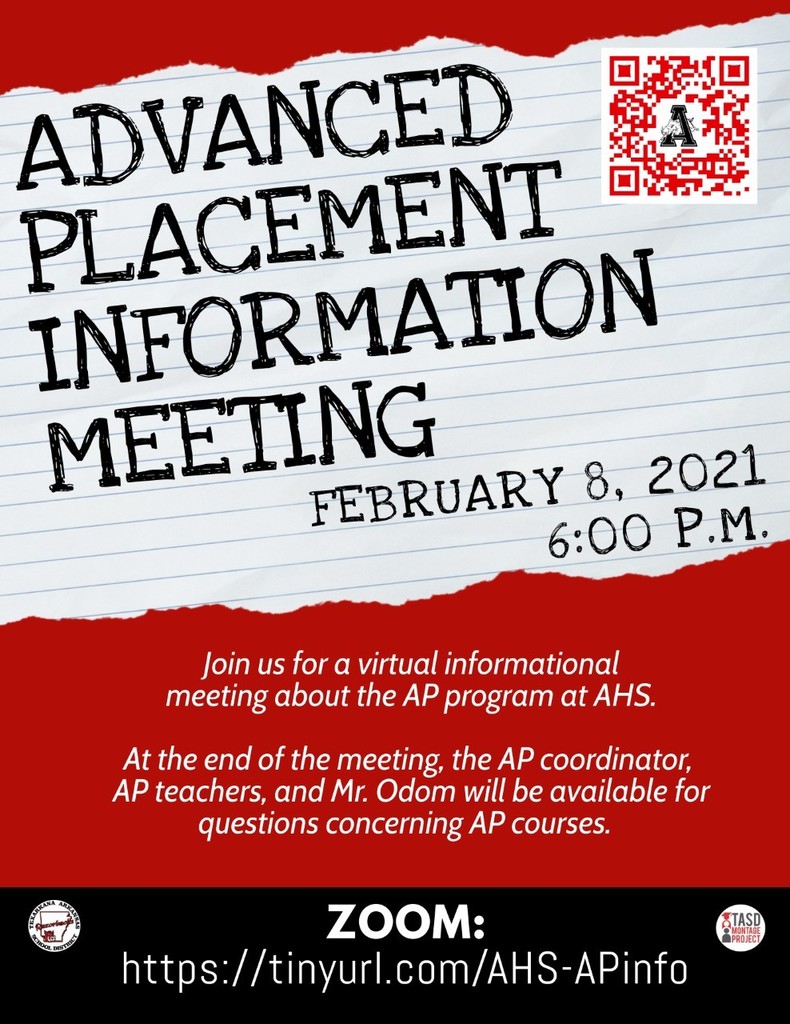 Reminder...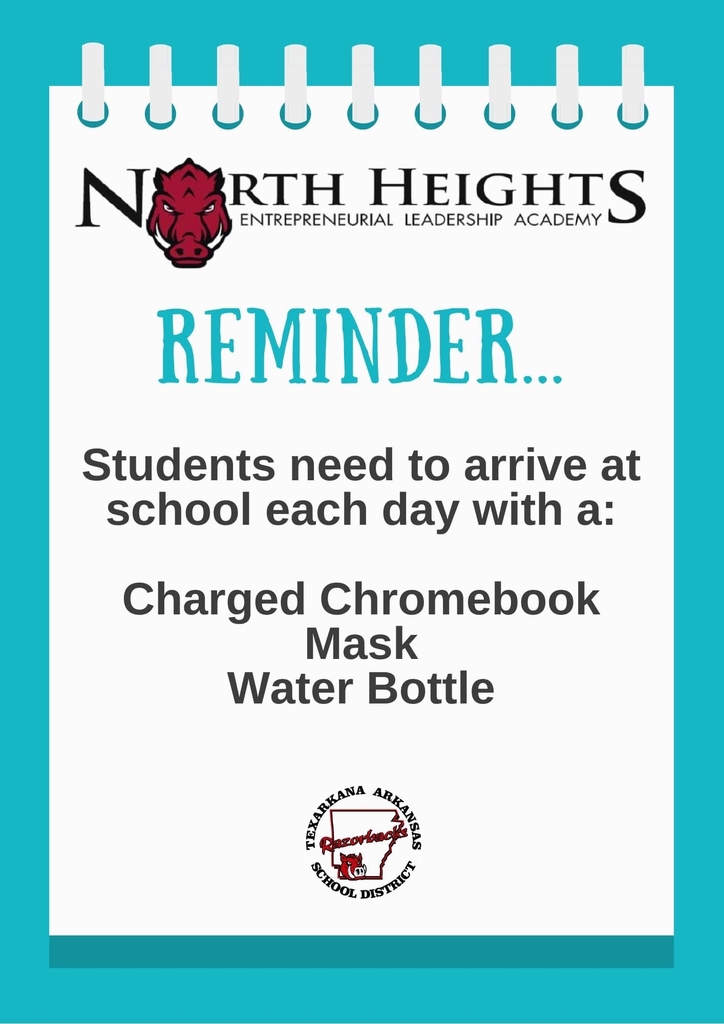 The 7th grade boys and girls basketball games scheduled for next Friday, January 22nd in Foreman have been cancelled. There are no makeup dates at this time.

IMPORTANT INFORMATION!!!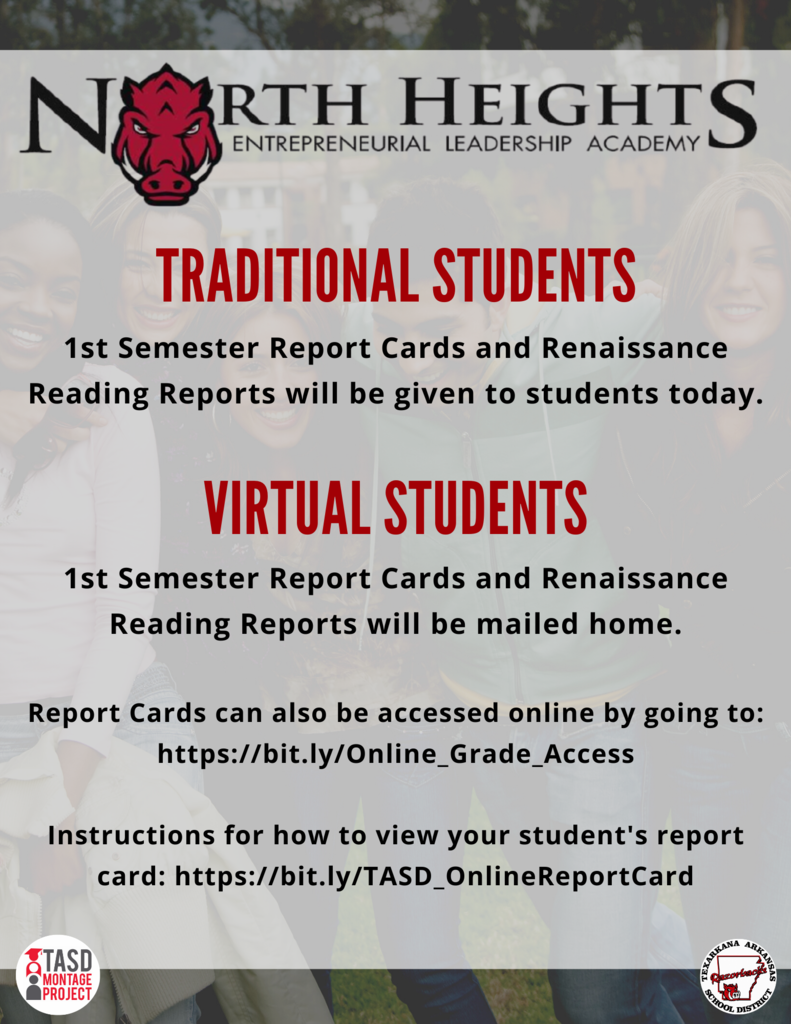 Cheer tryout packets are available in the front office!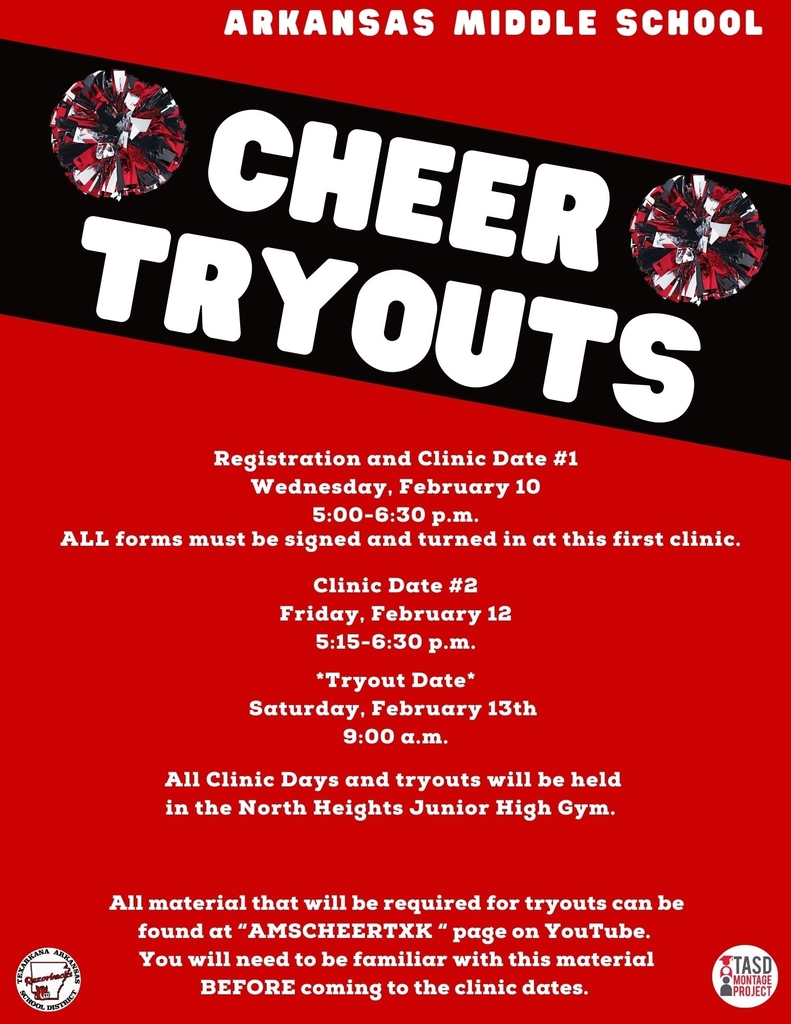 No School - Monday, January 18, 2021 - Martin Luther King, Jr. Day #teamtasd #potentialrealized #saferazorbacks

School Picture Day - Friday, January 15!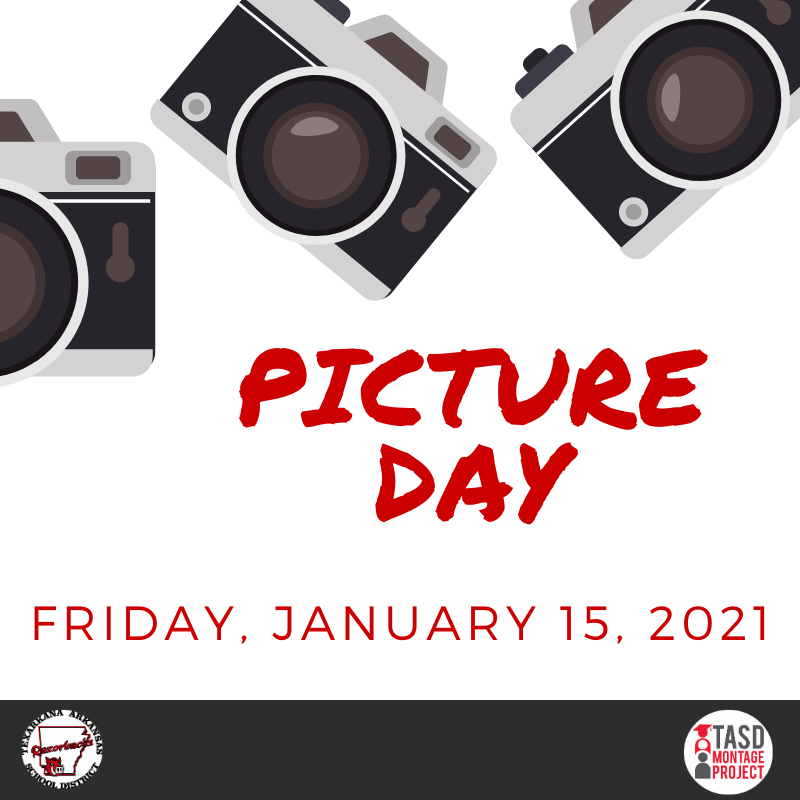 Reminder- Tomorrow is a virtual day.

All work from 1st 9 weeks is due to your teacher by Thursday, December 10th!

The 7th & 8th grade girls and boys basketball games that were scheduled for Monday, December 7th, in North Caddo have been cancelled. There are no make up dates at this time. #teamtasd #potentialrealized #saferazorbacks

Razorback Readers Virtual Club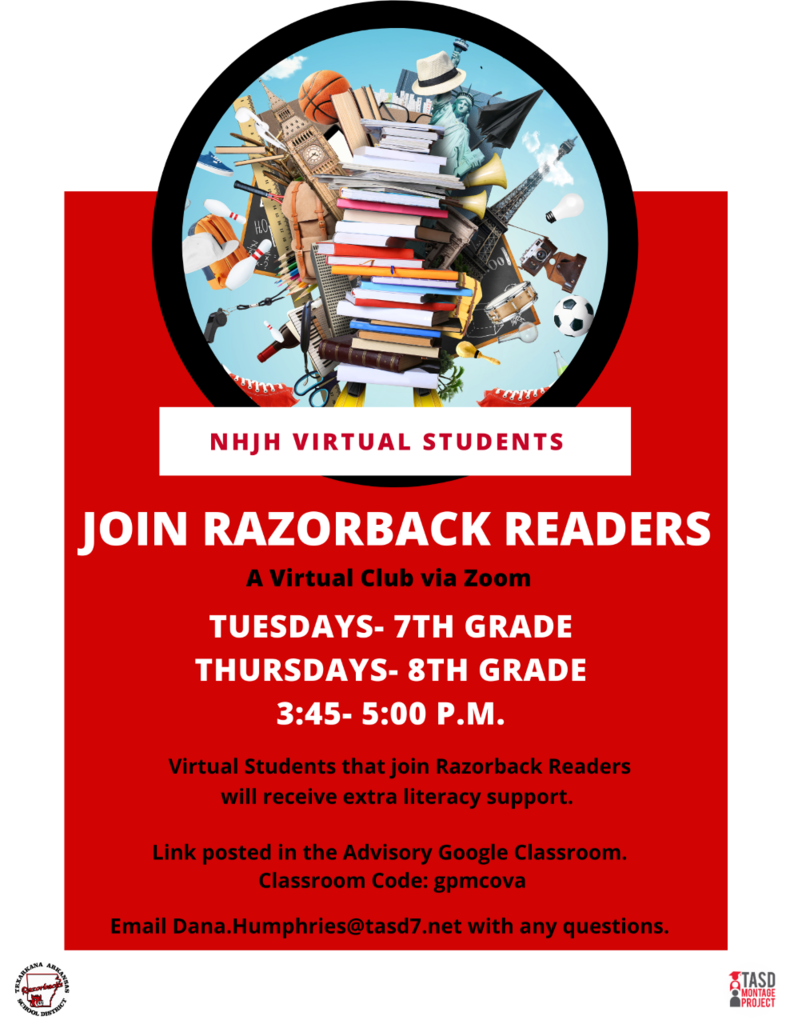 Attention Virtual Students!!! Virtual Book Club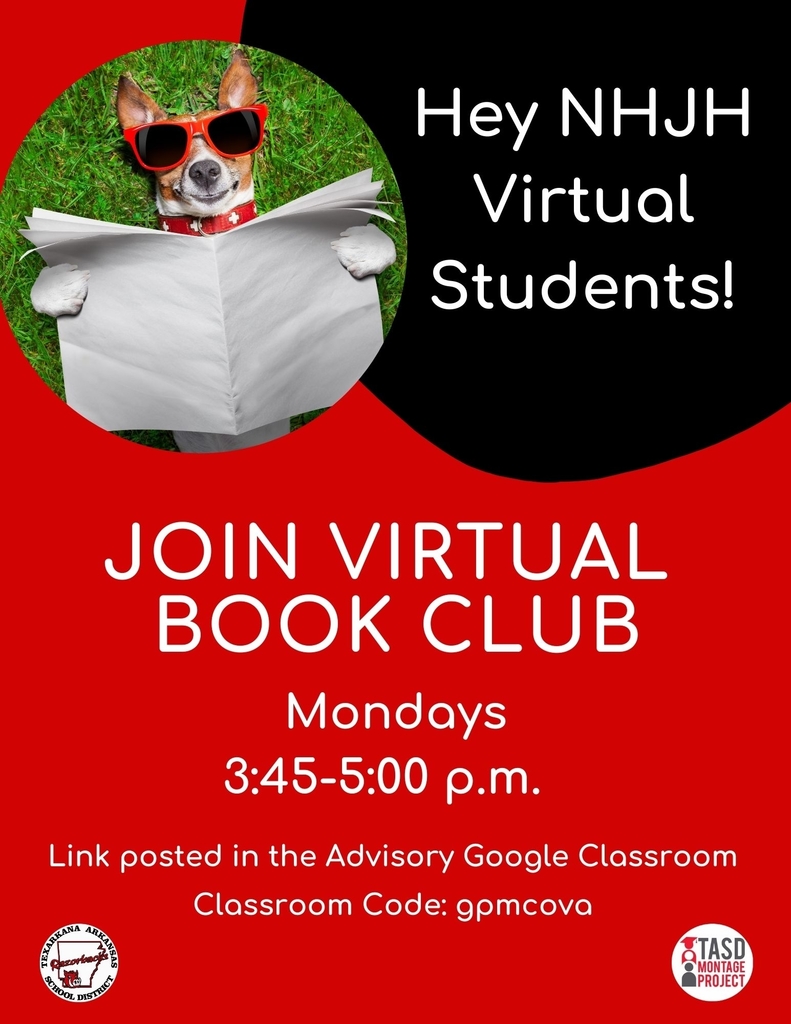 The 7th grade girls game scheduled for tonight, November 30, in Prescott for 5:00 pm has been cancelled. The 7th grade girls game scheduled for Thursday, December 3rd in Magnolia has also been cancelled. 8th & 9th grade girls will still play starting at 5:00pm. #teamtasd #saferazorbacks #potentialrealized

Virtual Homework Help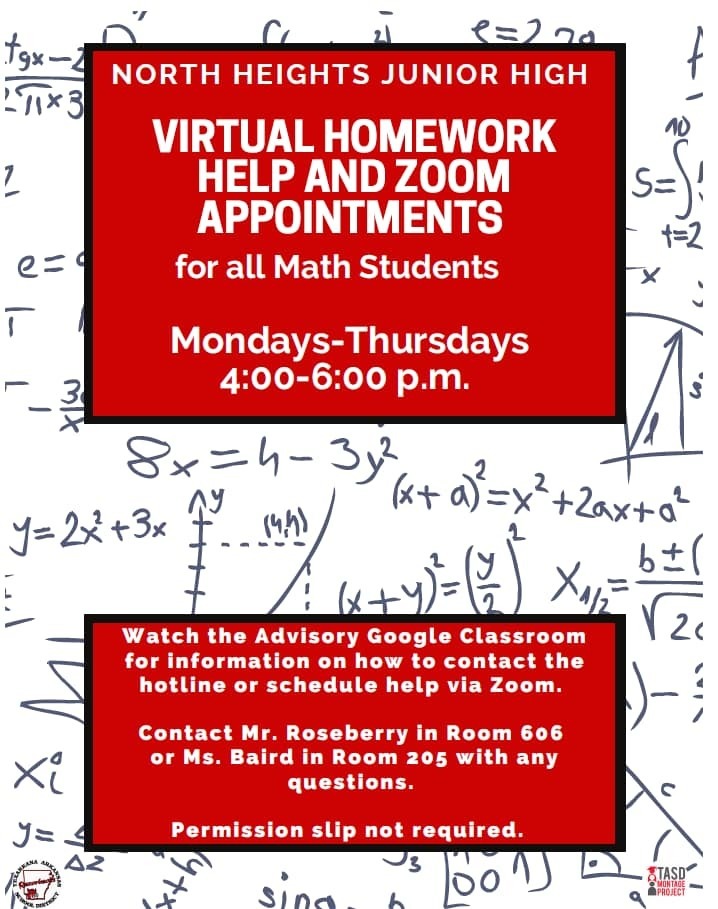 The 8th grade boys basketball game scheduled for tonight against Hope @ home has been cancelled. 7th grade & 9th grade boys are still scheduled to play starting at 5:00pm. #teamtasd #saferazorbacks #potentialrealized

Basketball tickets for the 7th, 8th & 9th grade boys games vs. Hope are available online only. The games are scheduled for November 19 starting at 5:00 pm in the Razorback gym. MASK REQUIRED. Click link below for tickets or scan the QR code. #teamtasd #potentialrealized #SafeRazorbacks
https://ahs.tasd7.net/o/ar-high/page/basketball