8th grade football team (B team only) will play Genoa at Genoa, tonight October 19th at 6:00 PM. #teamtasd #potentialrealized

TIME CHANGE FOR VOLLEYBALL GAMES TONIGHT! AHS vs El Dorado- Razorback Gym Varsity- 5:00 pm followed by JV AMS vs El Dorado- AMS Gym 9th Grade- 5:00 pm followed by: 7th Grade (A & B) & 8th Grade #teamtasd #potentialrealized #saferazorbacks

On Wednesday, August 4, TASD will hold a COVID-19 vaccine clinic. The clinic will take place in the Arkansas High School cafeteria from 9:00 a.m. to 12:00 p.m. and 4:00 to 6:00 p.m. Ages 12 to 17 will receive the Pfizer vaccine and ages 18 and up will receive the Johnson & Johnson or Pfizer vaccine. Students who receive the vaccine during the vaccine clinic will be entered in a drawing to receive a Chromebook, bicycle, flat screen TV, or AirPods. A parent or guardian must accompany children under the age of 18 and must sign a waiver for individuals under the age of 18 to receive the vaccine.

ATTENTION ECA STUDENTS!!! There will be a community service opportunity July 27.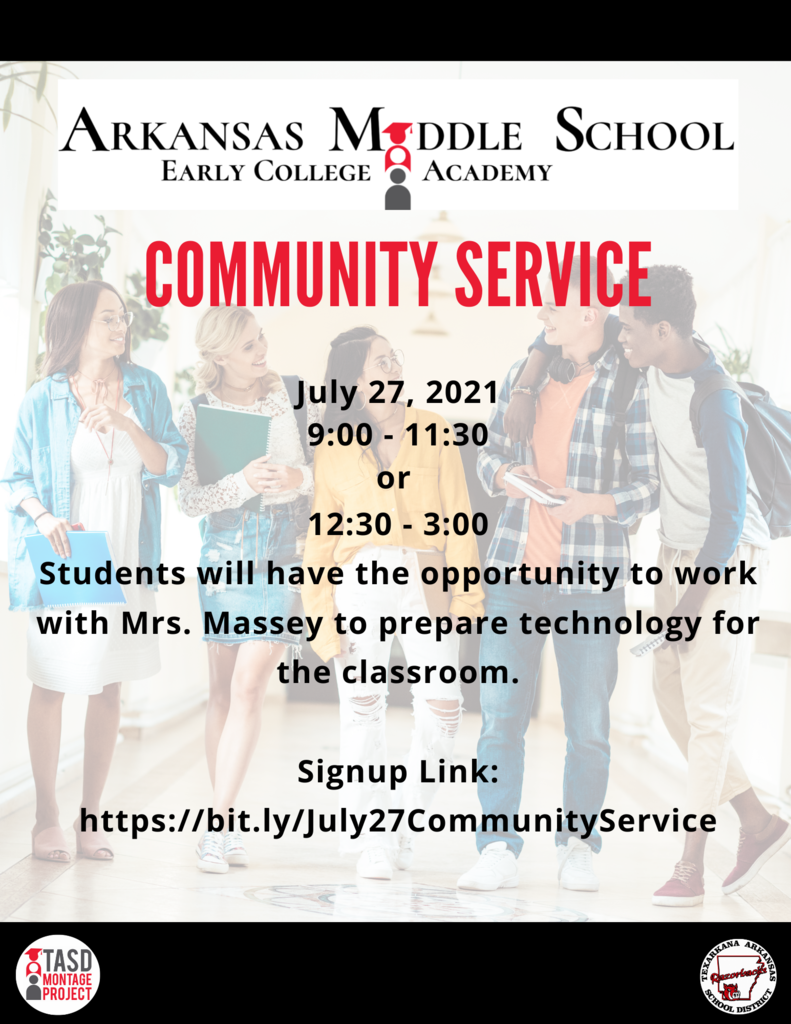 8th Grade Volleyball Practice July 13 8:00 - 11:00 AMS Gym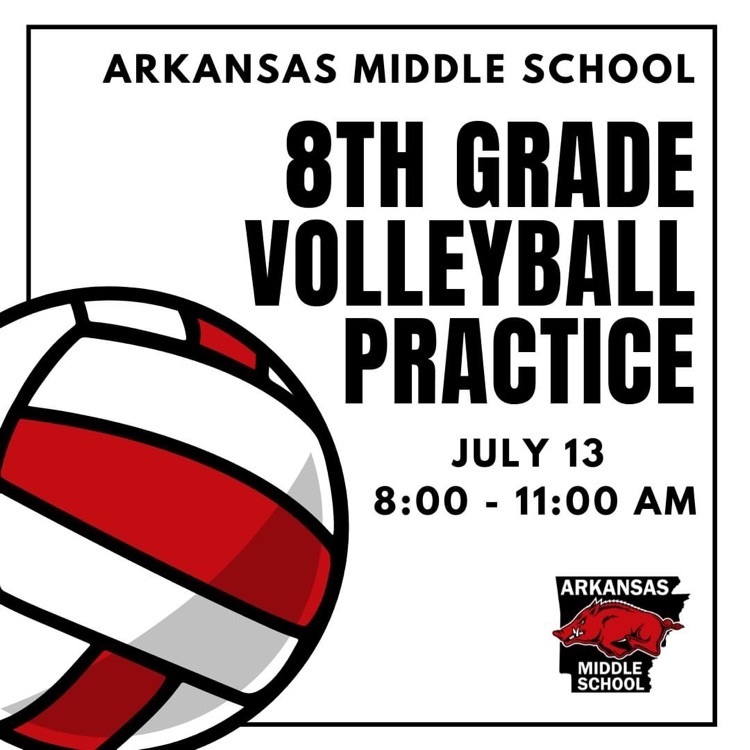 7th Grade Volleyball Tryouts July 14 10:00 - 12:00 AMS Gym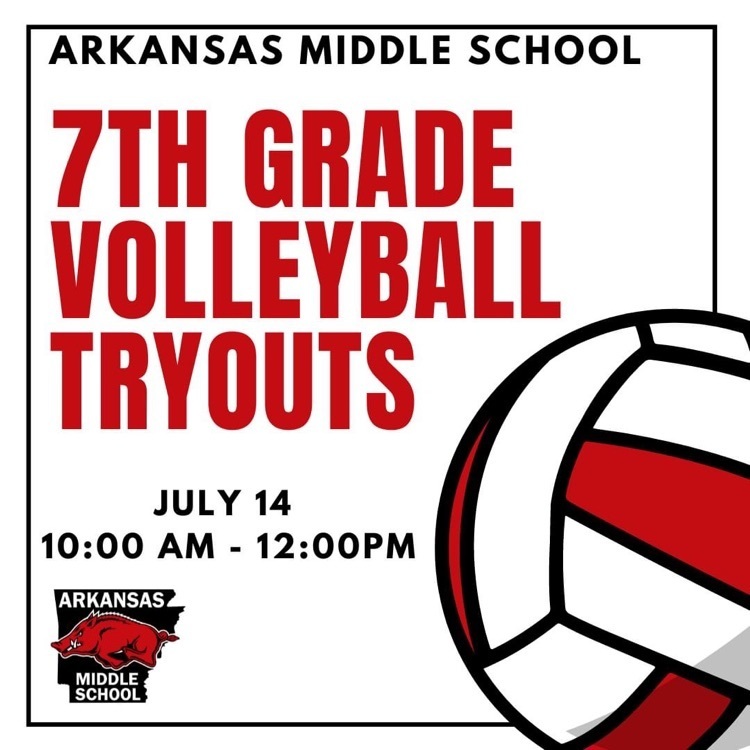 American Rescue Plan Survey - The Texarkana Arkansas School District is seeking critical feedback from various stakeholders who have significant insight into the effects of the COVID-19 pandemic on teaching and learning. Feedback will be used to plan for the use of funds received. The Texarkana Arkansas School District values and appreciates your feedback to support our school community. Click the link to complete survey:
https://forms.gle/vUeMoYbTa52pz3Yy8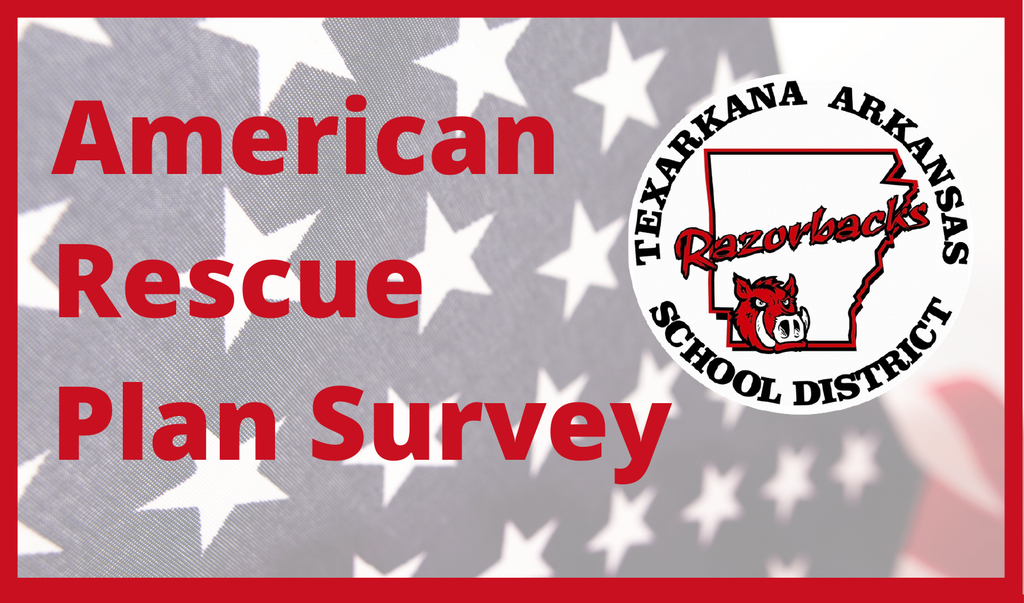 TONIGHT! Gifted and Talented Parent Meeting - Tuesday, May 25th at 5:30 PM - Arkansas Middle School #teamtasd #potentialrealized

Volleyball Tryouts - Current 8th grade girls - Monday, May 24th from 3:45 to 5:15 PM in the Arkansas Middle School Gym.

Gifted and Talented Parent Meeting - Tuesday, May 25th at 5:30 PM - Arkansas Middle School #teamtasd #potentialrealized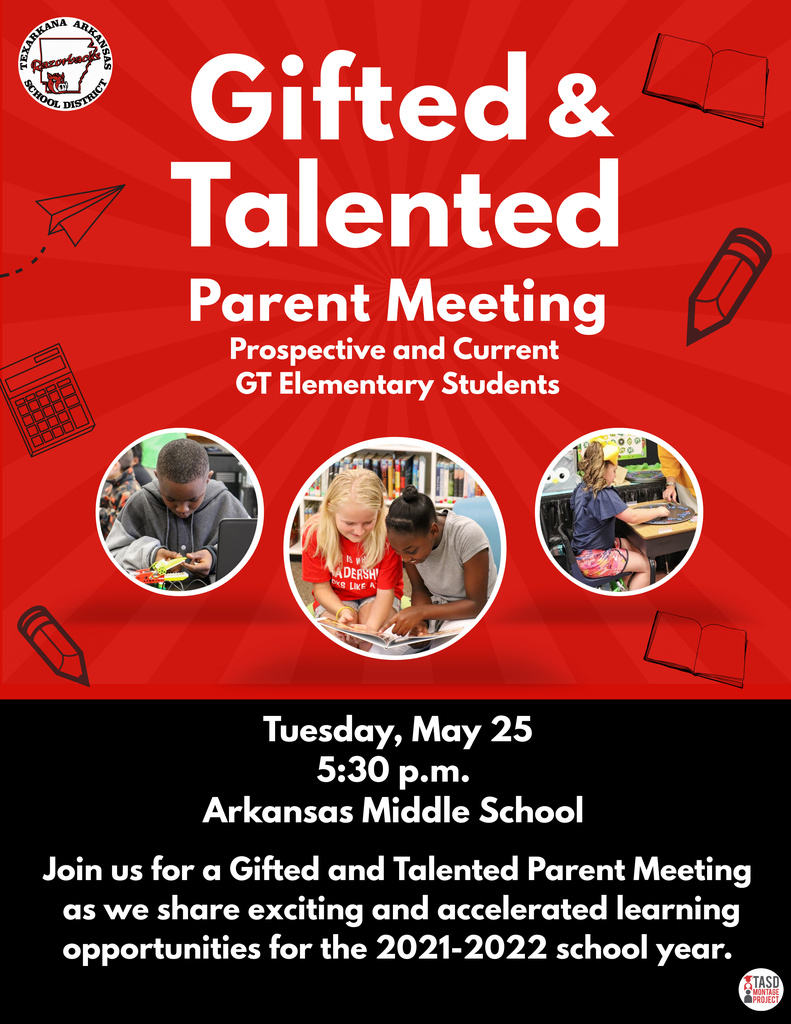 UPDATED Semester Exam Schedule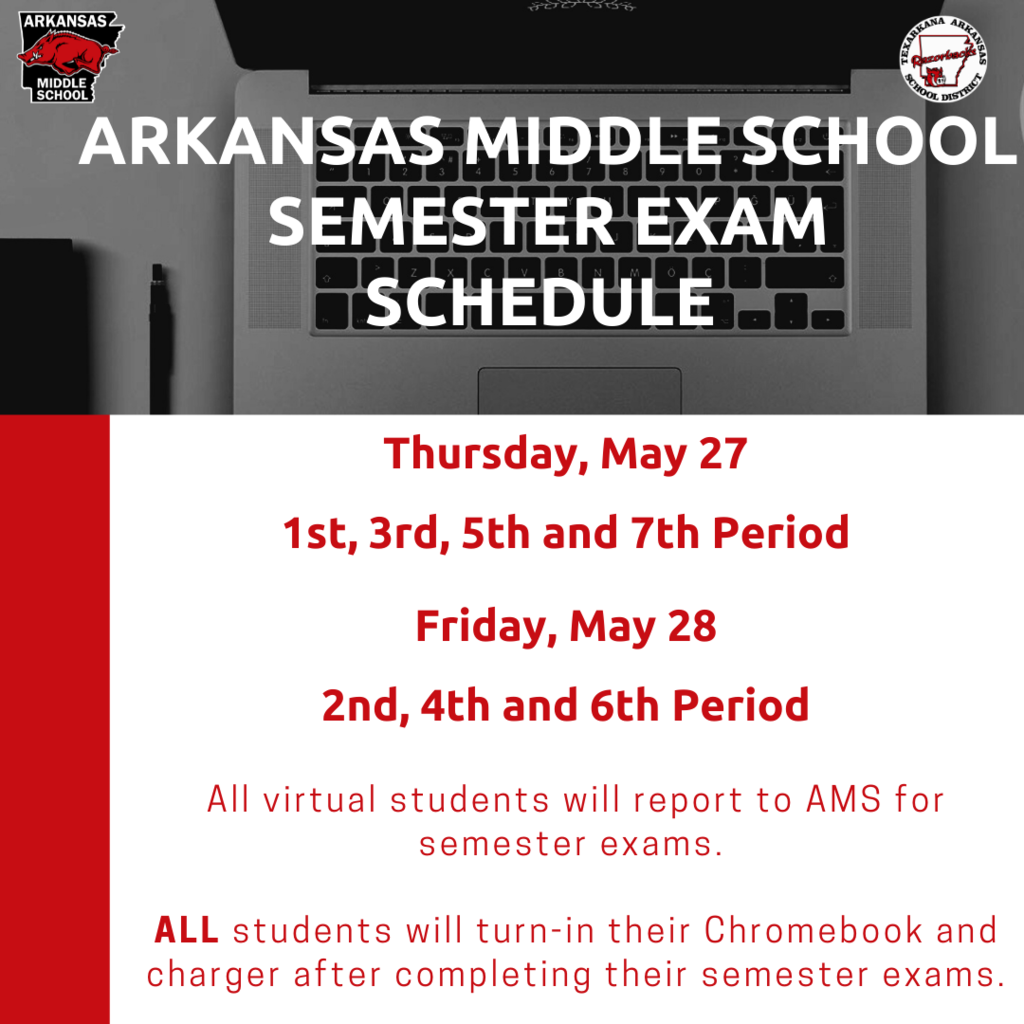 Arkansas Middle School Scheduling Meetings - Join us for a parent and student meeting regarding 2021-2022 course schedules, programs and the Arkansas Middle School Early College Academy. Incoming 7th grades - Monday, April 19 at 5:30. Incoming 8th graders - Monday, April 19 at 6:30. Incoming 6th graders - Thursday, April 22 at 5:30. Mask required. #teamtasd #potentialrealized #saferazorbacks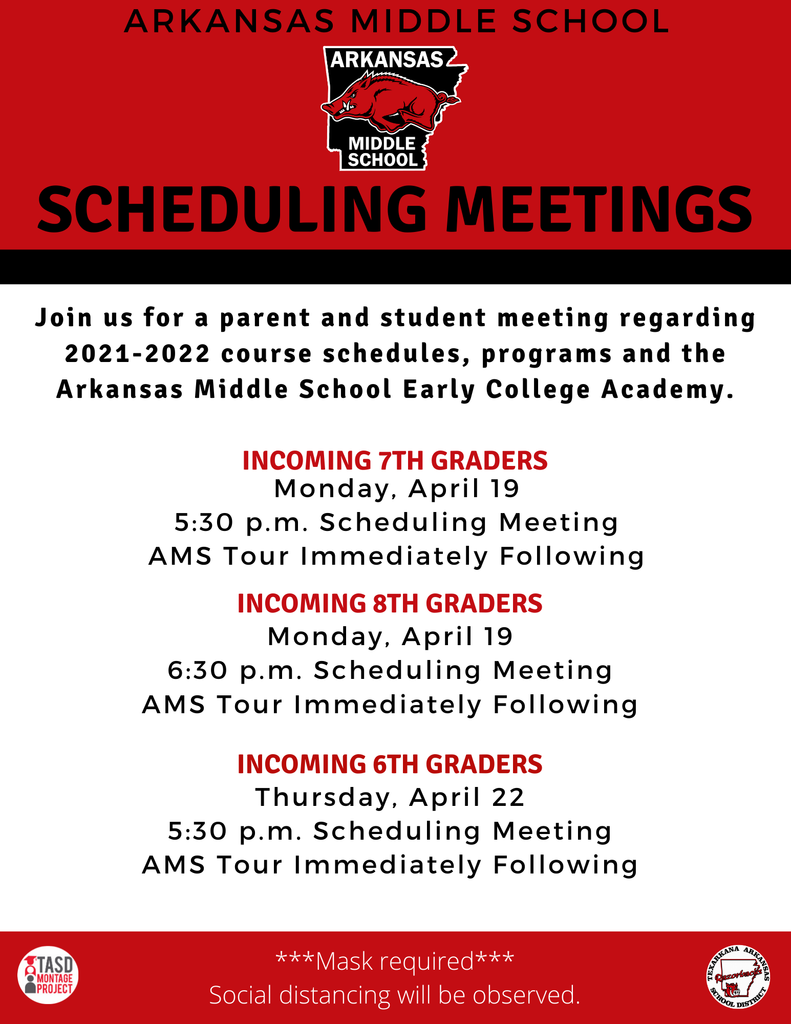 Digital Learning Academy Parent Meeting tonight at 6:00 - College Hill Middle School, 1600 Forest St. ZOOM link for meeting -
https://zoom.us/j/94033980006

This is a reminder that tomorrow, Friday April 2, is a virtual day for all students; however, our campuses will be open and buses will run for students who wish to attend school. Additionally, the ACT Aspire testing window opens Monday, April 5. All traditional, hybrid, and virtual students in grades third through tenth are required to take the ACT Aspire assessment on their campus. TASD will continue to work diligently to maintain a safe environment as students prepare for the ACT Aspire test. Your child's campus will contact you with information regarding specific testing dates and times.

ACT Aspire Student Testing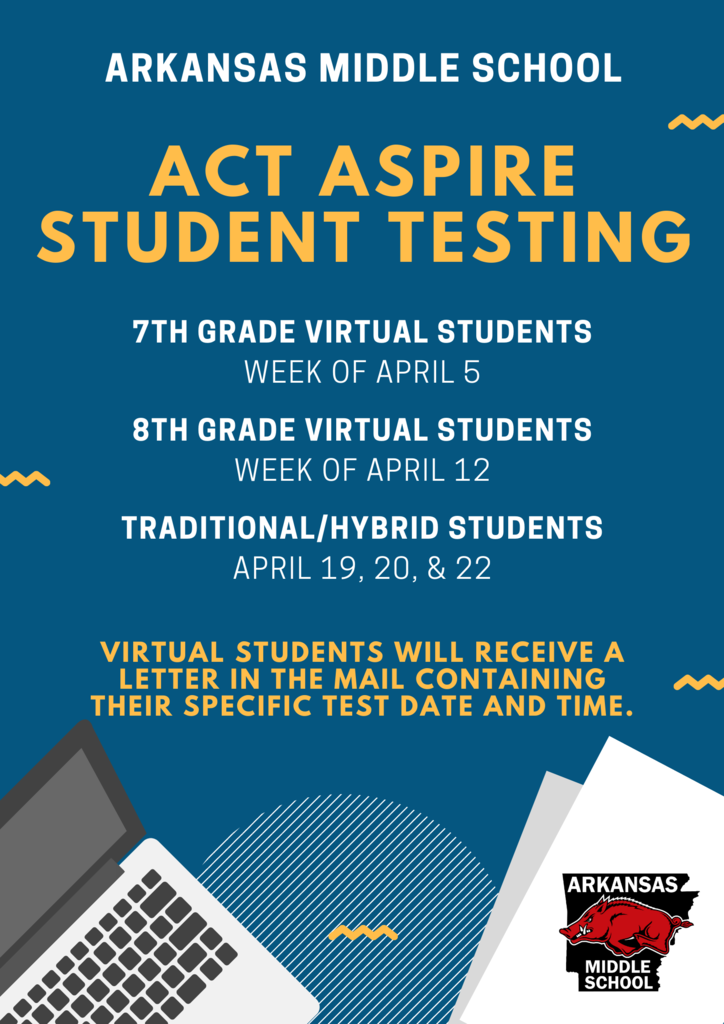 All schools and offices will be closed for Spring Break - March 22 - 26. Enjoy your break. #teamtasd #potentialrealized

The North Heights Junior High staff and students are ten days away from moving into the new Arkansas Middle School. The new school will house sixth, seventh, and eighth grade students. However, only the seventh and eighth graders will move in this semester; sixth graders will start the 2021-2022 school year on the new campus. Principal Theresa Cowling said, "There is definitely a buzz of excitement in the air as our team of teachers and students prepare to transition to Arkansas Middle School." Students and staff will move into the new school on March 8. "I have enjoyed being part of this historic moment; it is not every day that you have an opportunity to move into a new facility like our new middle school." The $26 million building project began in 2017 with the restructuring of bonds. In addition to money from the bonds, the district received $6 million from the Arkansas Academic Facilities Partnership Program. "This is an exciting time for our district and the community," commented Superintendent Dr. Kesler. Arkansas Middle School is 125,000 square feet and sits on 31 acres. The new campus will house 1,000 students and is equipped with state-of-the-art science and computer labs, two band halls, 2 gymnasiums, and much more. "Trice Elementary was built in 1983, and it was the newest school in the Texarkana Arkansas School District," Kesler stated. "We are pleased that the district was able to build the new middle school without an increase to taxpayers." A ribbon cutting ceremony will be announced at a later date. However, we invite you to countdown with us by following the Texarkana Arkansas School District on Facebook, Twitter, and Instagram.

All Texarkana Arkansas School District campuses and offices will resume regular schedules on Monday, February 22. #teamtasd #potentialrealized #saferazorbacks

Freezing temperatures and additional snowfall will continue across our region. Road conditions are unsafe for travel as overnight and early morning temperatures continue to remain below freezing. Therefore, all Texarkana Arkansas School District campuses and offices will remain closed with plans to resume on Thursday, February 18. Tuesday and Wednesday will be virtual learning days for students. Please stay safe.