The Texarkana Arkansas School District is accepting nominations for Distinguished Alumni for the 2022 - 2023 school year. Nominations will be accepted through Tuesday, January 31, 2023. The following criteria must be met to be designated Distinguished Alumni: 1. Must be recognized as having made outstanding contributions in business, professional, or vocational endeavors. 2. Must be a person of high moral character and integrity. 3. Must be an individual who recognizes and supports public education. 4. Must be a graduate of Arkansas High School, Washington High School, or North Heights High School. Click for form:
https://forms.gle/TBH7eb45ycU7BeiV7

The Arkansas High School Razorback Redline will be sponsoring a dance clinic on Saturday, January 28th in the Arkansas High Razorback Gym. All students, grades kindergarten through 8th grade, are invited to attend. Attendees will learn stretch techniques, stand dances, and a group dance that they will perform at the Arkansas High Varsity Girls Basketball Game on Friday, February 3rd. Cost of the clinic is $30 and includes dancer participation in the clinic, t-shirt, and dancer plus two parent admission tickets to the basketball game. All registration and payments will be done digitally - dancers must pre-register to be able to participate. Please use the following link for registration and payment submission. Additional information is available at
www.tasd7.net
.
https://tinyurl.com/MiniRedlineClinic2023

Did you know January is School Board Recognition Month? TASD school board members serve students and represent their communities. Board members face complex and demanding challenges. They spend many hours serving their schools, students, and communities. Be sure to thank a school board member this month. Jesse Buchanan, President; Larry Manley, Vice President; Vickie Lacy, Secretary; Frank Coleman, Amy Leslie, Sandra Rhone, and Pam Winchell.

The basketball games scheduled for December 15th at AMS will be 7th grade girls and 9th grade girls games only starting at 5:00 PM. #teamtasd #potentialrealized

​The Basketball game for 7/8/9/JV Girls that was scheduled for Wednesday, November 9th @ 4:30 in Genoa has been cancelled.

Annual Title 1 Parent Meeting - All parents/guardians are encouraged to attend the meeting. The purpose of this meeting is to provide information about our Title 1 Program and your right to be engaged in your child's education. September 29th - 8:45 a.m. - Administration Building

The 7th grade game that was on the schedule for Monday, September 5th (Labor Day) has been cancelled.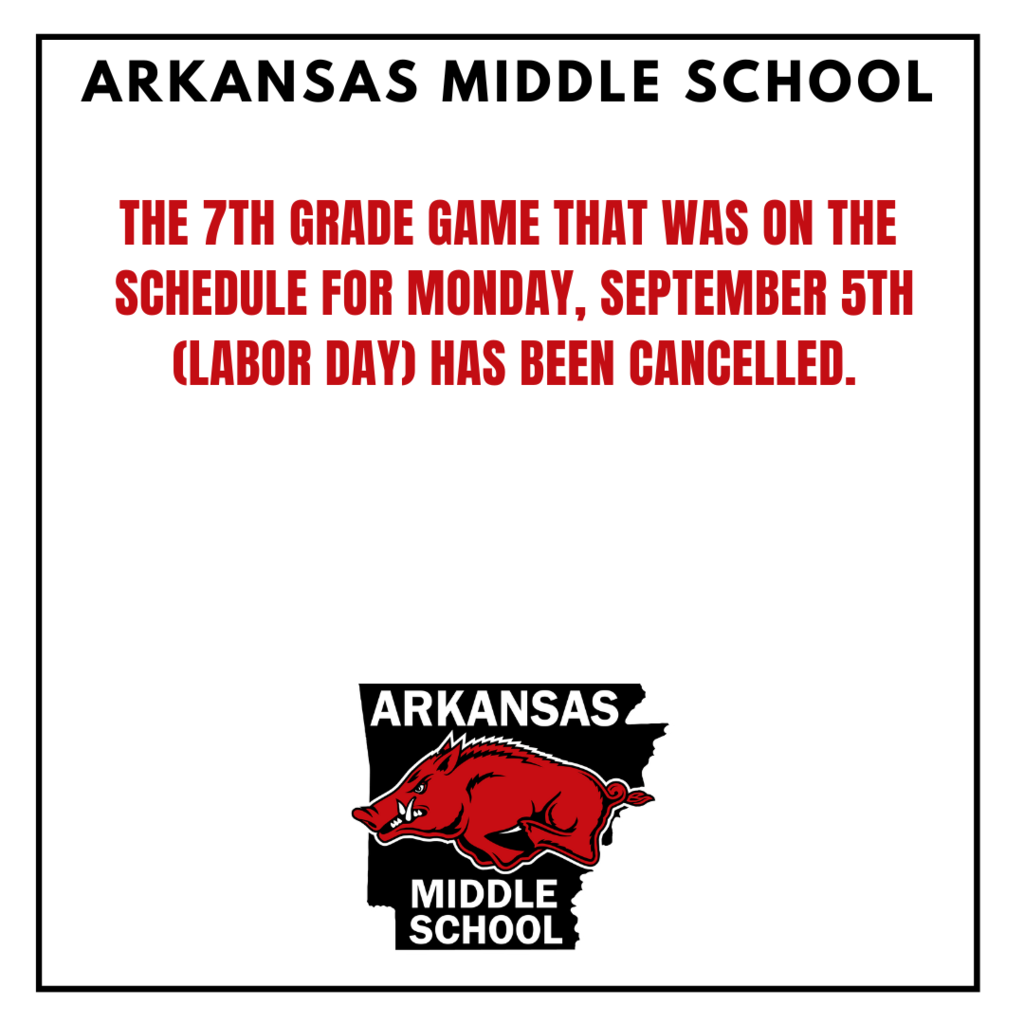 The 8th and 9th-grade football games that are scheduled for this Thursday, September 1st at home as Red & White games have changed. Both groups will now play Mountain Home @ Little Rock Mills (8th grade- 5:30 p.m./9th grade- 7:00 p.m.).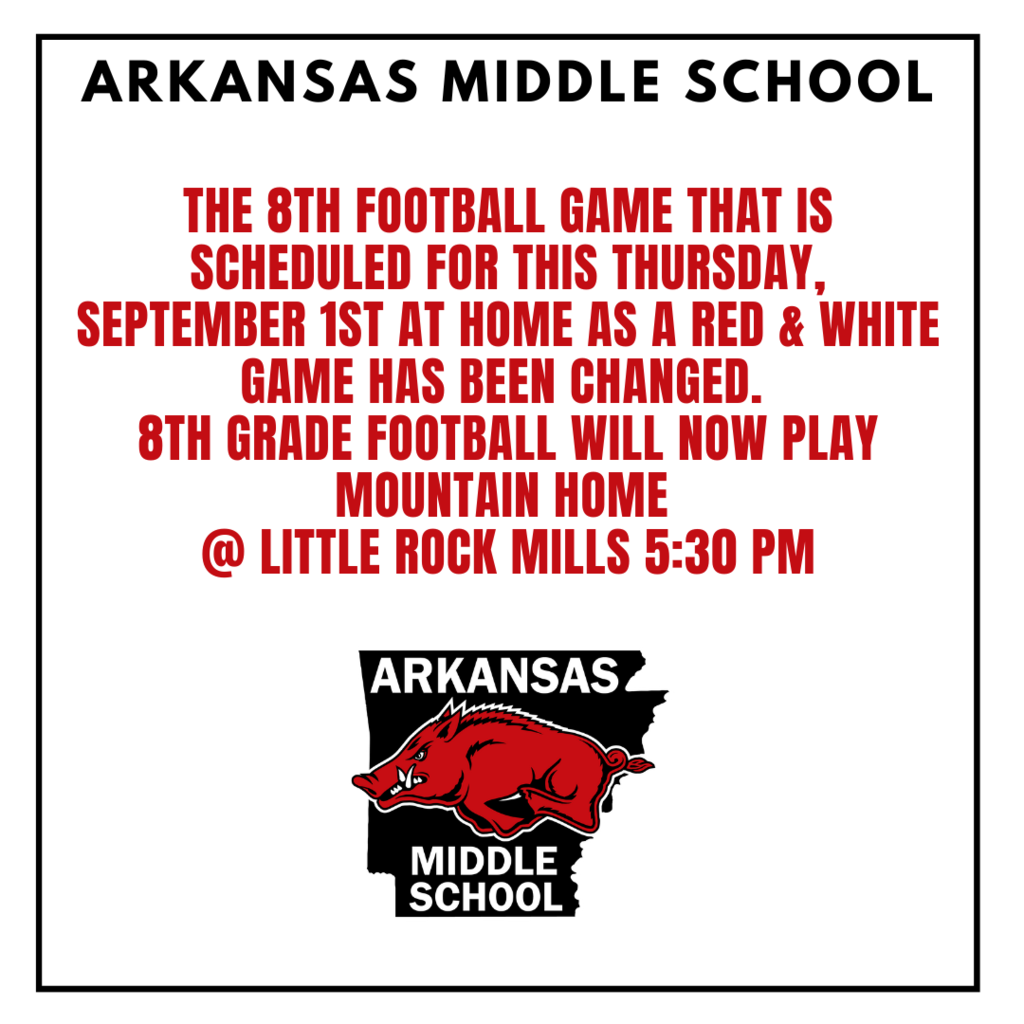 NEW SUMMER CLUBS ADDED!!!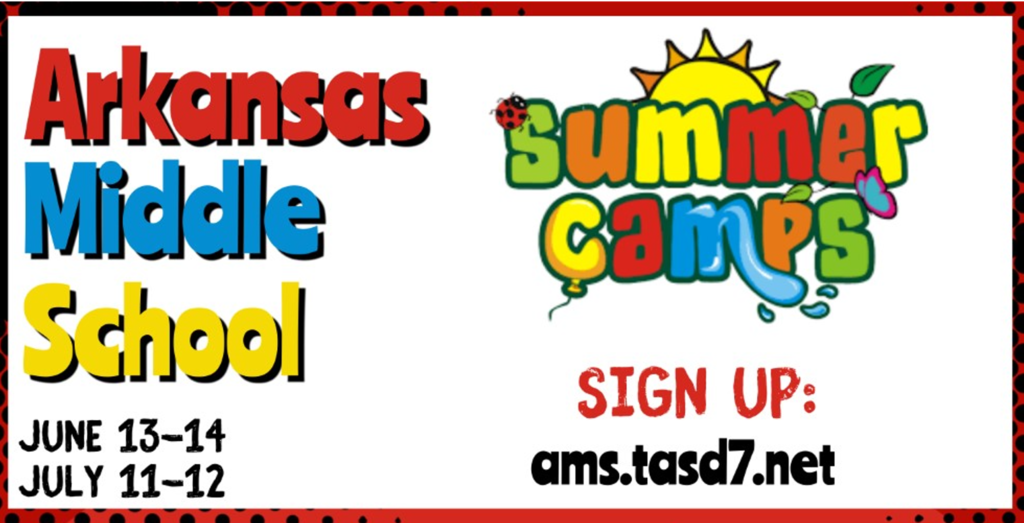 The AMS End of Year Awards ceremony has been moved to June 1, 2022.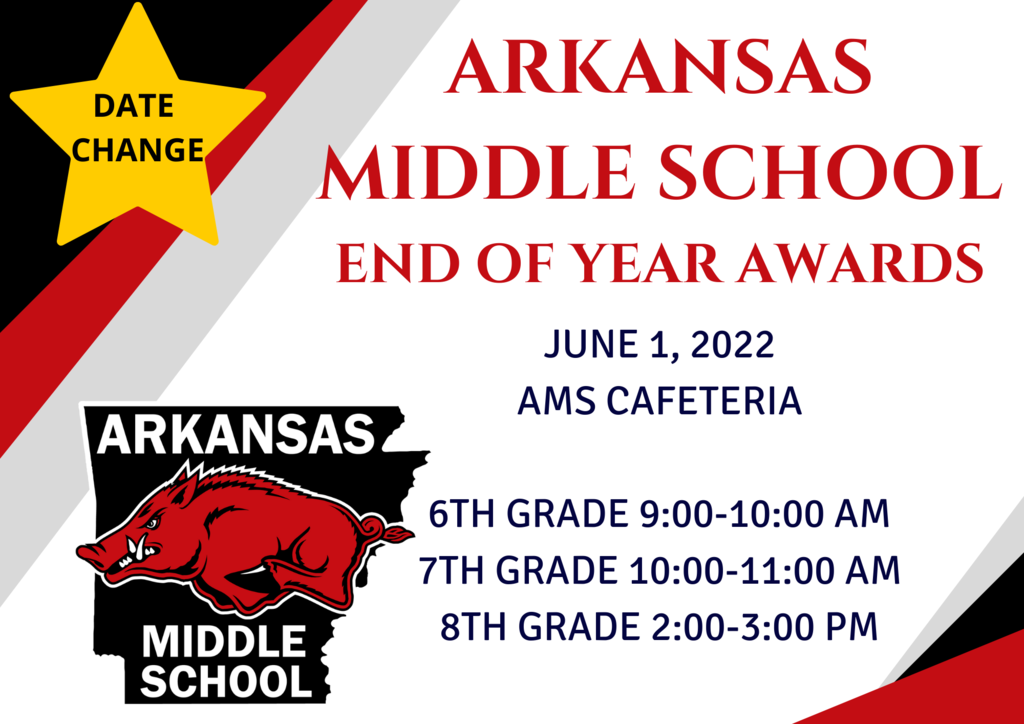 Destination Imagination Fundraiser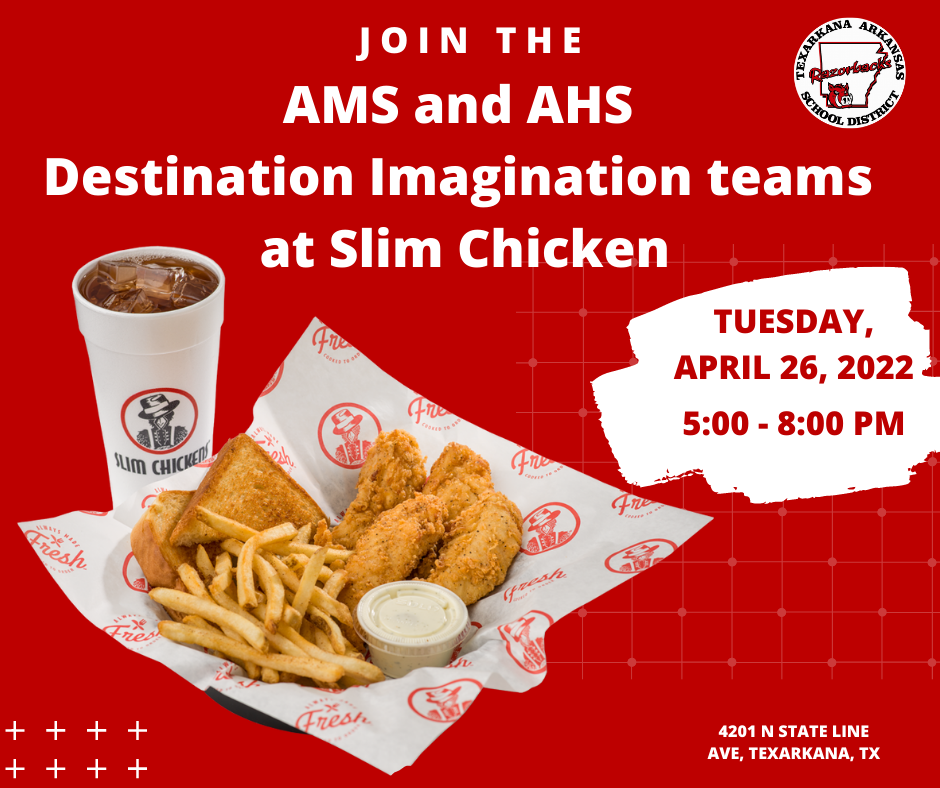 UPDATED ACT Aspire Exam Dates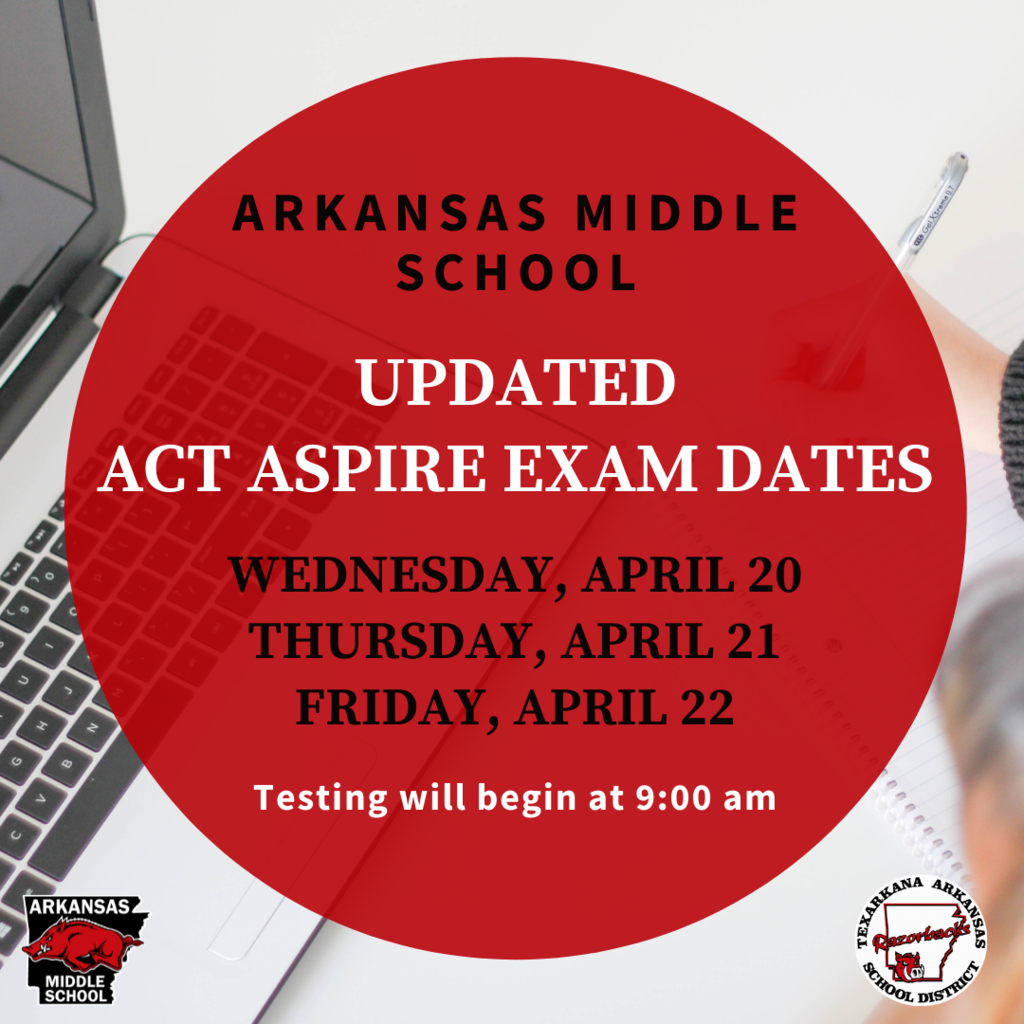 AMS Book Fair May 2-6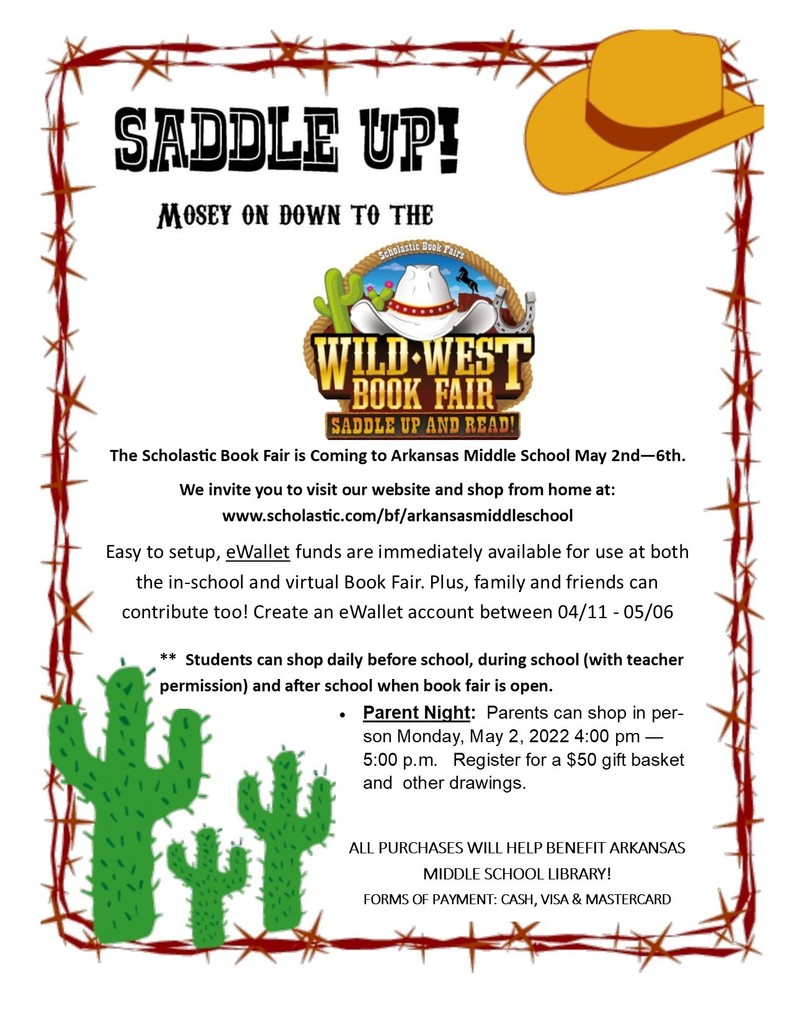 All TASD campuses will hold virtual Parent/Teacher Conferences on Thursday, February 17, from 4:00 - 7:00 pm. and Friday, February 18 from 10:00 am - 1:00 pm. Students will not attend school on Friday, February 18. Additionally, all TASD schools and offices will be closed on Monday, February 21 in observance of Presidents Day. #teamtasd #potentialrealized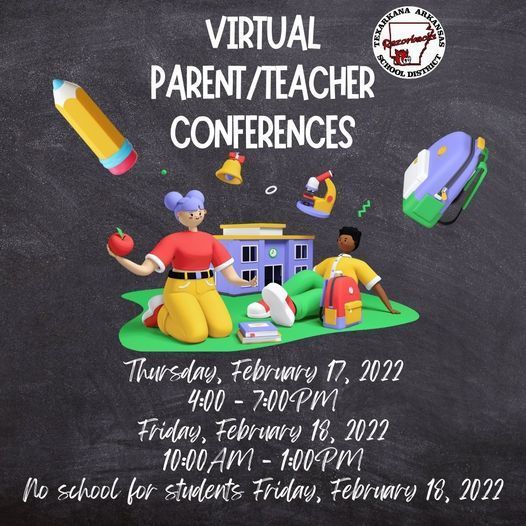 IMPORTANT MESSAGE- This afternoon the following routes will be delayed for grades 6 - 12: Route 4 & Route 8

All TASD schools and offices will resume as normal tomorrow, Friday, February 4. Students will receive alternative method of instruction (AMI) work in the form of Google Classroom or paper packets to complete as a result of the inclement weather closing today, February 3. Students will have 5 days to complete the AMI work.

The National Weather Service and Office of Emergency Management have issued a winter storm warning for our area. Out of an abundance of caution, all Texarkana Arkansas School District schools and offices will be closed on Thursday, February 3rd. Additionally, all extracurricular activities scheduled for tomorrow are cancelled. TASD administrators will continue to monitor weather conditions and will provide updates via the district's website
www.TASD7.net
and our social media sites. The TASD callout system provider is currently experiencing technical difficulties so please help us by sharing this message with others.

School Closing Friday, January 21, Due to Staff Shortage - All Texarkana Arkansas School District schools will close on Friday, January 21, and return on Monday, January 24. The Texarkana Arkansas School District is currently experiencing staff shortages due to the increased number of positive and quarantine cases as Omicron continues to spread across our community. The district did see a decrease in the number of staff absences after the previous school closure; however, the positive and quarantine numbers among staff have increased once again. TASD staff are stretching themselves to the limit to provide COVID-safe learning for all of our students; however, we cannot be successful without adequate resources. The staff shortage coupled with the low number of substitute teachers available limits the district's ability to staff our classrooms and offices. Navigating through this pandemic has been challenging for our staff, students, and the community as a whole; and we try very hard not to close our schools unless it is necessary. We understand the burden that closing our schools causes on some of our families, and we apologize for the short notice. All students PreK through 12th grade will use Alternative Method of Instruction (AMI) for Friday's school closure which may include instructional paper packets or digital learning. Our custodial services department will continue to deep clean and prepare our facilities for staff and students. #teamtasd #potentialrealized

All TASD athletic events are canceled until Monday, January 24, 2022. #teamtasd #potentialrealized