TASD Christmas Break - December 20, 2021 - January 3, 2022. Professional Development for Teachers is January 3, 2022. Students will return January 4, 2022. #teamtasd #potentialrealized

The AMS Winter Band Concert has been moved to the Arkansas High school Gymnasium at 5:30 pm.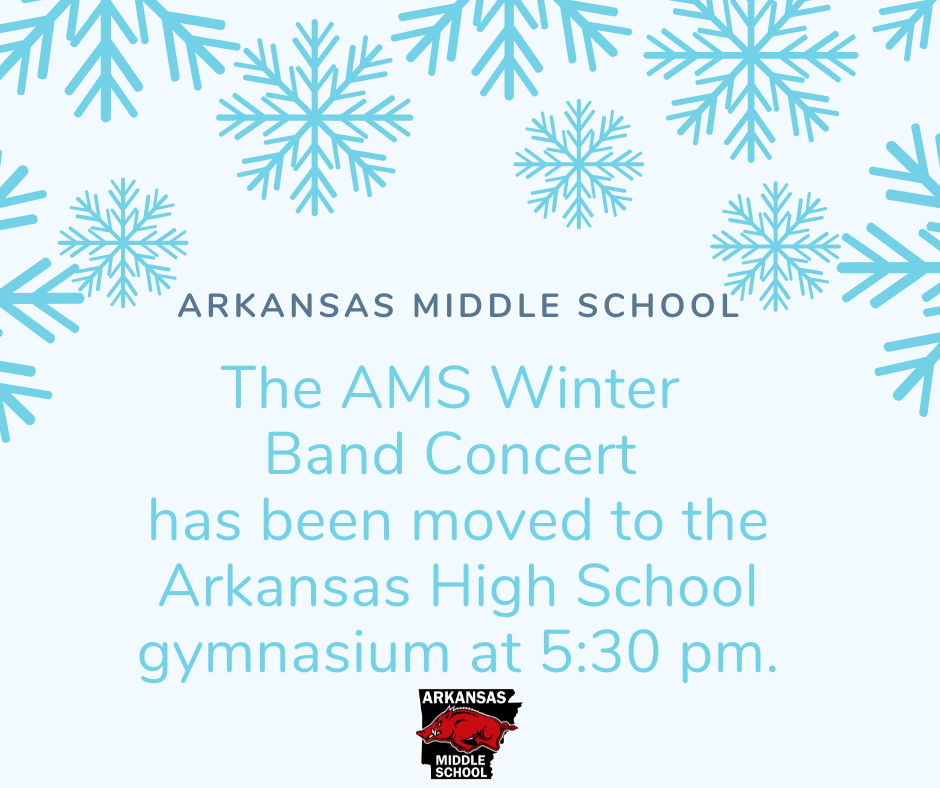 The Fouke basketball jamboree that the 7th-grade boys were scheduled to play in this Saturday, December 11th at Fouke, has been cancelled. #teamtasd #potentialrealized

Super Bowl Champion, Hollywood Star Spencer Paysinger Visits TASD - A Super Bowl champion linebacker turned Hollywood writer/producer, Spencer Paysinger brought his own poignant story of living in South Central LA and playing football at Beverly Hills High to the hit CW and Netflix series, All American. "It's a story about being an outsider in two worlds," says Paysinger, who developed the award-winning show and is integrally involved as a producer. Like the "Spencer" character based on his life, Paysinger grew up amid the drugs, gangs, violence, and poverty of South Central LA with education-focused parents and a dream of going to college. A promising athlete who played four sports but excelled in football, he was offered the opportunity to attend Beverly Hills High, going on to lead the football team as captain to an undefeated season. A scholarship to the University of Oregon followed, where Paysinger also became team captain and was part of the team's very first undefeated season. Graduating with a bachelor's degree in economics, he began his NFL career with the New York Giants, winning Super Bowl XLVI in his rookie season. Paysinger played seven seasons with the Giants, Dolphins, and Panthers. Paysinger isn't just another successful athlete whose story is portrayed on film. He is the creative force that developed the concept for All American, pitched it to network decision-makers and, still sits in the writer's room to brainstorm and ensure that the show stays true to its original vision. Committed to leveraging his success to create opportunities for young people, Paysinger serves on the board of KIPP Public Schools Black and Latino Leadership Committee, with the goal of creating programs for KIPP's South Central Youth. Paysinger will speak to students at Arkansas Middle School and Arkansas High School on Thursday, December 9. #teamtasd #potentialrealized

8th grade football team (B team only) will play Genoa at Genoa, tonight October 19th at 6:00 PM. #teamtasd #potentialrealized

TIME CHANGE FOR VOLLEYBALL GAMES TONIGHT! AHS vs El Dorado- Razorback Gym Varsity- 5:00 pm followed by JV AMS vs El Dorado- AMS Gym 9th Grade- 5:00 pm followed by: 7th Grade (A & B) & 8th Grade #teamtasd #potentialrealized #saferazorbacks

On Wednesday, August 4, TASD will hold a COVID-19 vaccine clinic. The clinic will take place in the Arkansas High School cafeteria from 9:00 a.m. to 12:00 p.m. and 4:00 to 6:00 p.m. Ages 12 to 17 will receive the Pfizer vaccine and ages 18 and up will receive the Johnson & Johnson or Pfizer vaccine. Students who receive the vaccine during the vaccine clinic will be entered in a drawing to receive a Chromebook, bicycle, flat screen TV, or AirPods. A parent or guardian must accompany children under the age of 18 and must sign a waiver for individuals under the age of 18 to receive the vaccine.

ATTENTION ECA STUDENTS!!! There will be a community service opportunity July 27.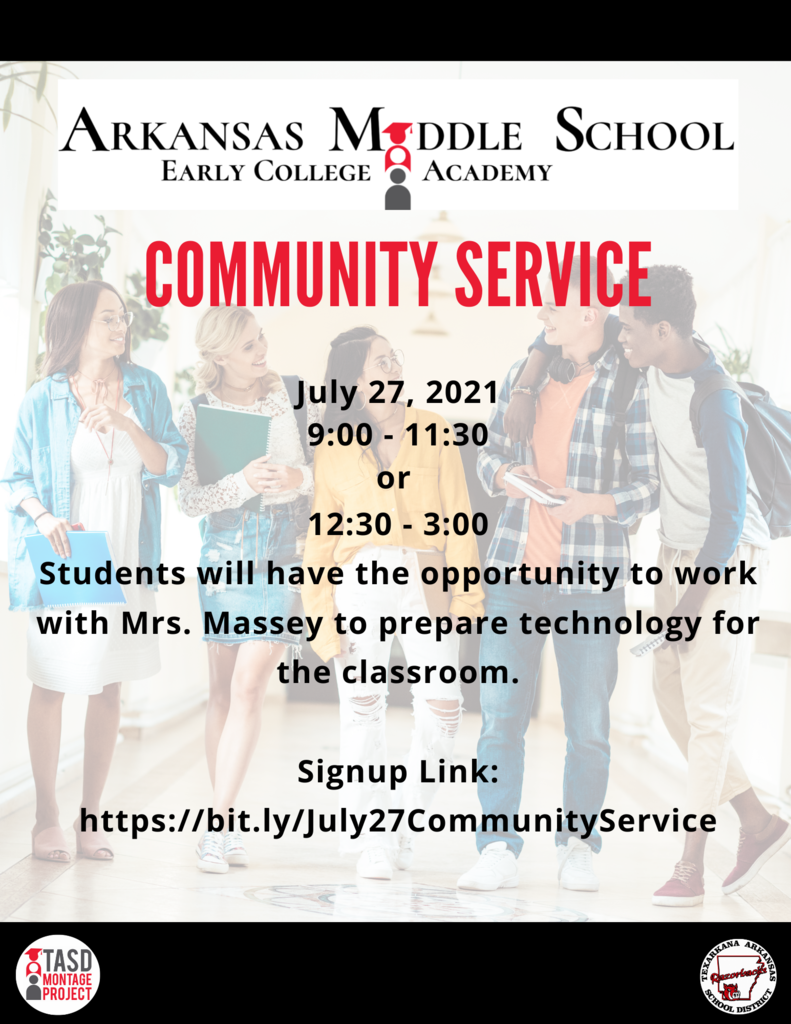 8th Grade Volleyball Practice July 13 8:00 - 11:00 AMS Gym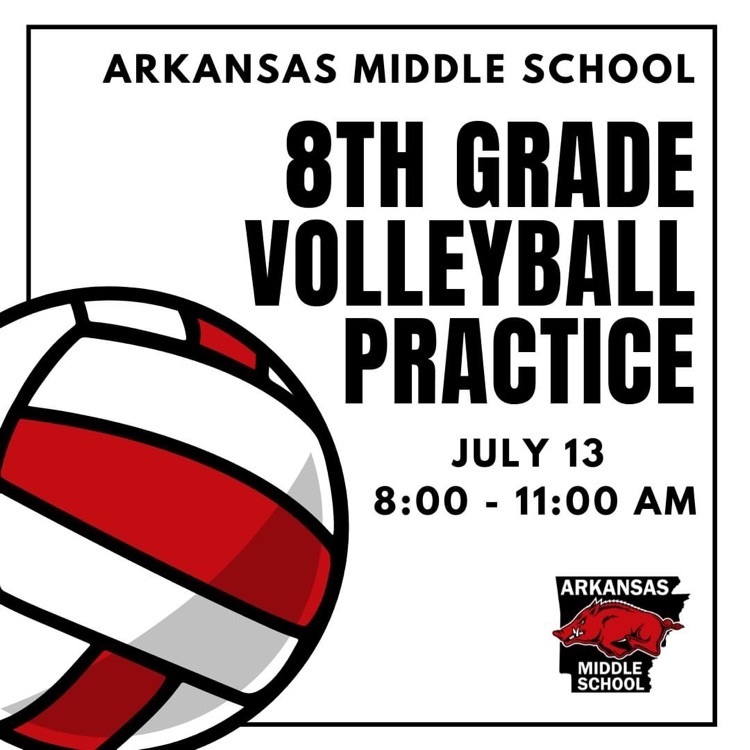 7th Grade Volleyball Tryouts July 14 10:00 - 12:00 AMS Gym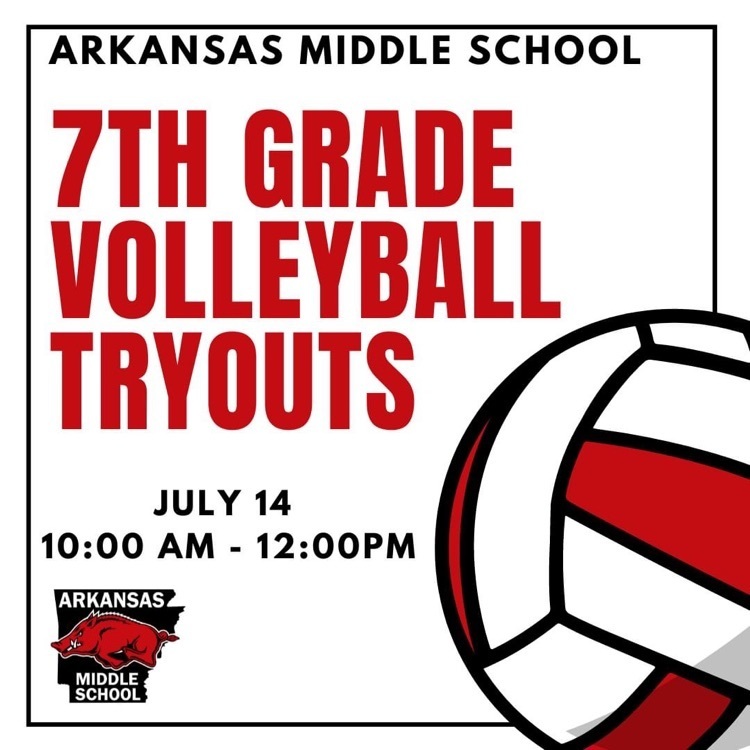 American Rescue Plan Survey - The Texarkana Arkansas School District is seeking critical feedback from various stakeholders who have significant insight into the effects of the COVID-19 pandemic on teaching and learning. Feedback will be used to plan for the use of funds received. The Texarkana Arkansas School District values and appreciates your feedback to support our school community. Click the link to complete survey:
https://forms.gle/vUeMoYbTa52pz3Yy8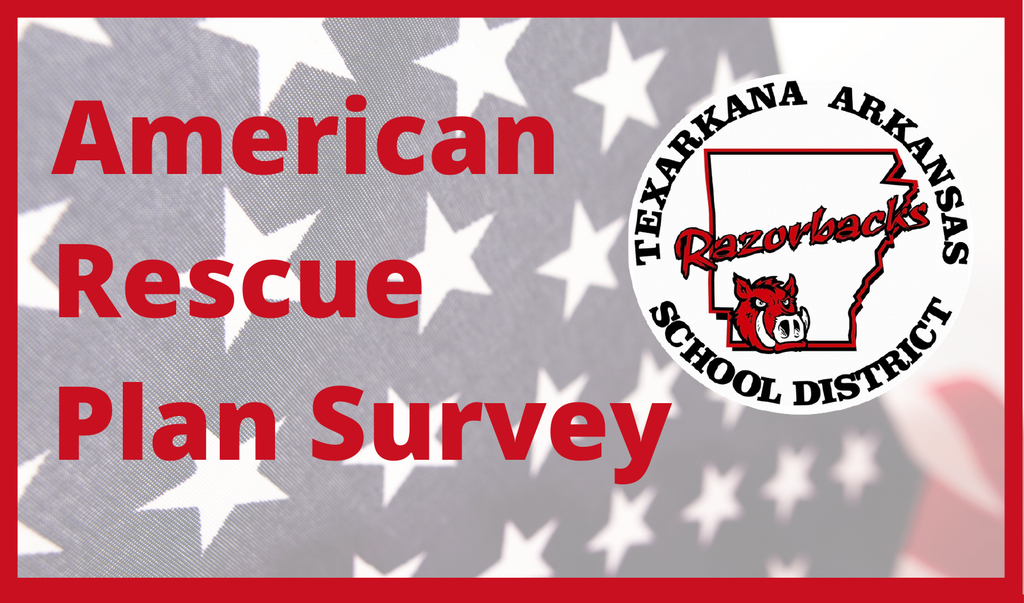 TONIGHT! Gifted and Talented Parent Meeting - Tuesday, May 25th at 5:30 PM - Arkansas Middle School #teamtasd #potentialrealized

Volleyball Tryouts - Current 8th grade girls - Monday, May 24th from 3:45 to 5:15 PM in the Arkansas Middle School Gym.

Gifted and Talented Parent Meeting - Tuesday, May 25th at 5:30 PM - Arkansas Middle School #teamtasd #potentialrealized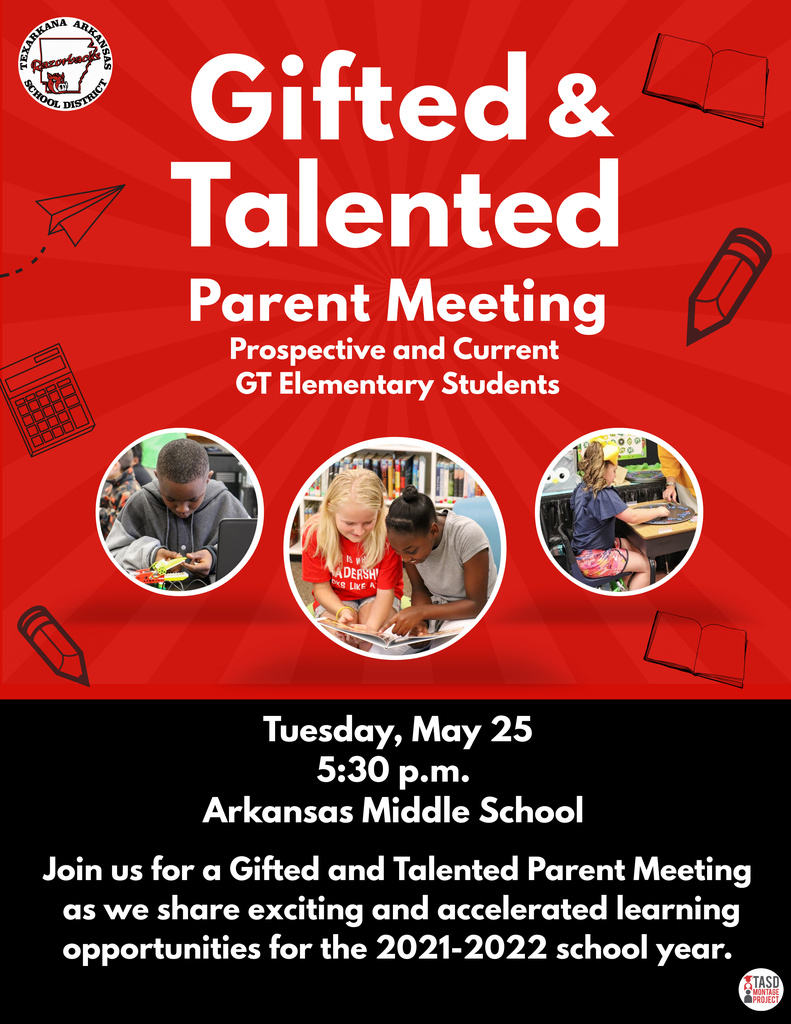 UPDATED Semester Exam Schedule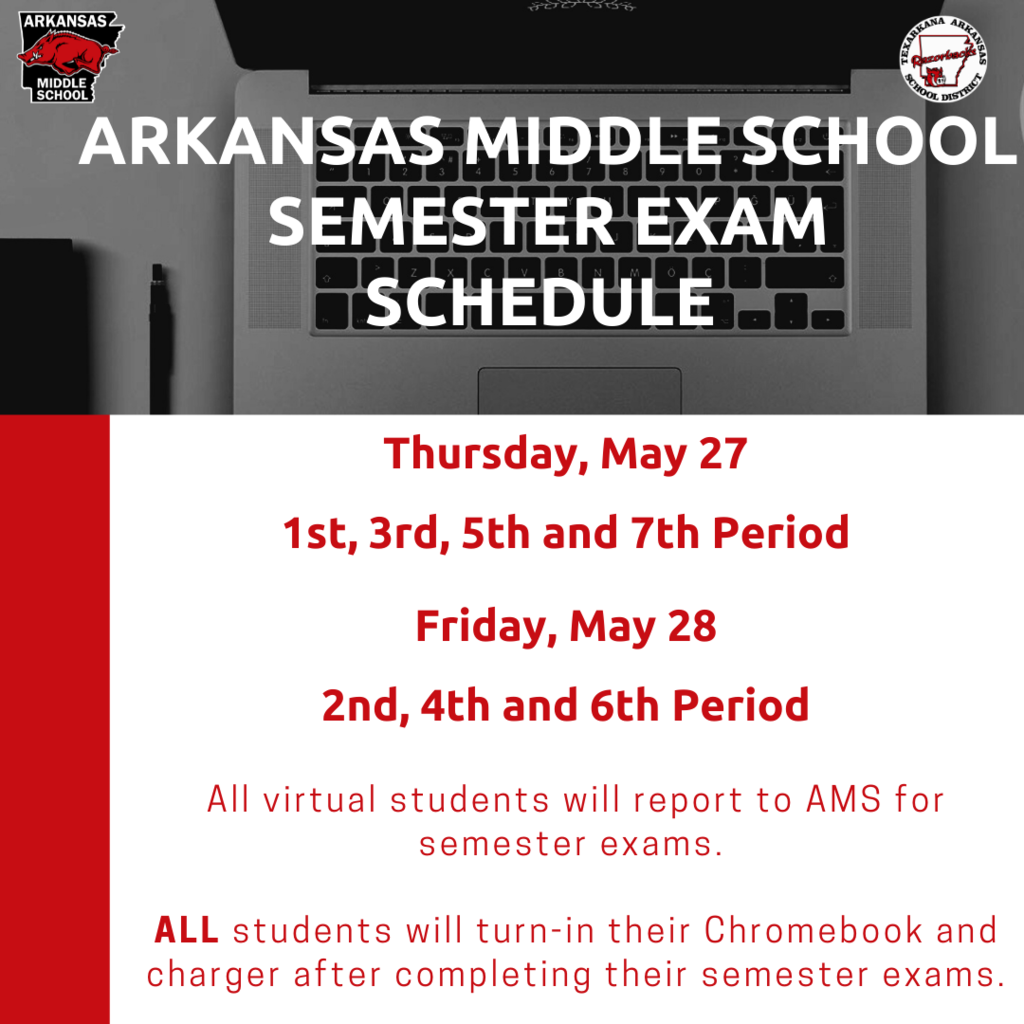 Arkansas Middle School Scheduling Meetings - Join us for a parent and student meeting regarding 2021-2022 course schedules, programs and the Arkansas Middle School Early College Academy. Incoming 7th grades - Monday, April 19 at 5:30. Incoming 8th graders - Monday, April 19 at 6:30. Incoming 6th graders - Thursday, April 22 at 5:30. Mask required. #teamtasd #potentialrealized #saferazorbacks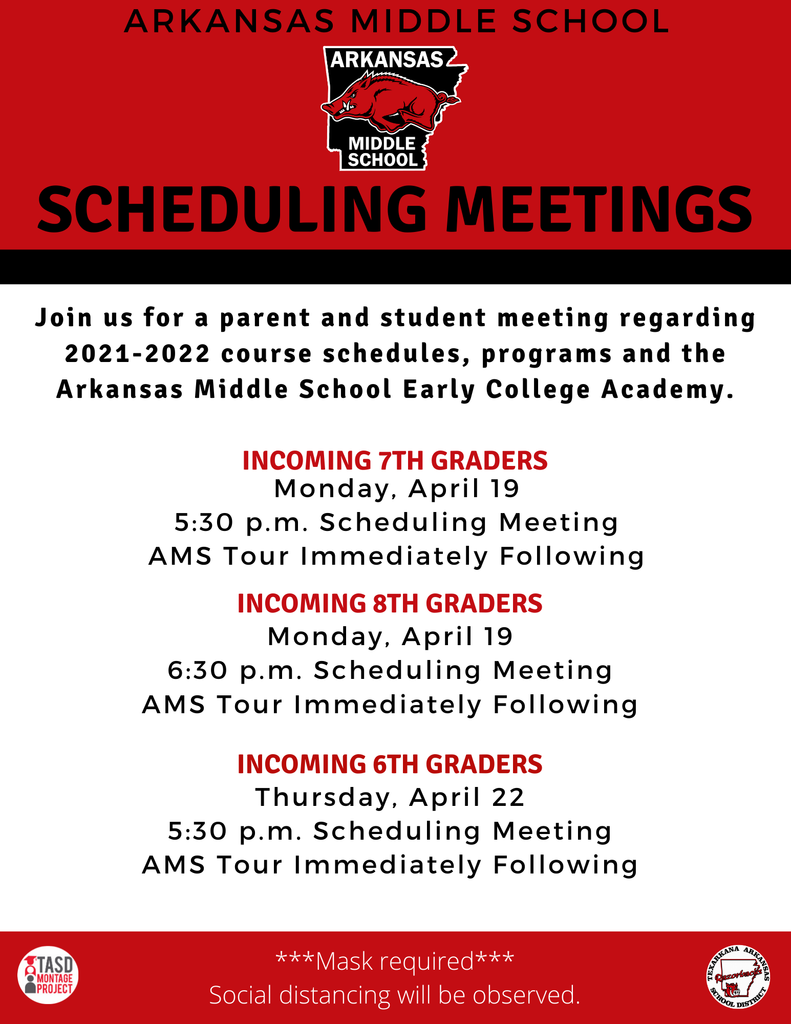 Digital Learning Academy Parent Meeting tonight at 6:00 - College Hill Middle School, 1600 Forest St. ZOOM link for meeting -
https://zoom.us/j/94033980006

This is a reminder that tomorrow, Friday April 2, is a virtual day for all students; however, our campuses will be open and buses will run for students who wish to attend school. Additionally, the ACT Aspire testing window opens Monday, April 5. All traditional, hybrid, and virtual students in grades third through tenth are required to take the ACT Aspire assessment on their campus. TASD will continue to work diligently to maintain a safe environment as students prepare for the ACT Aspire test. Your child's campus will contact you with information regarding specific testing dates and times.

ACT Aspire Student Testing